Good advice!
Our animal guide
Compact information about every individual small mammal, what more could one want? Simply click the picture of the desired animal to get useful advice immediately.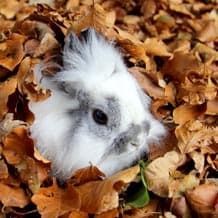 Autumn has arrived!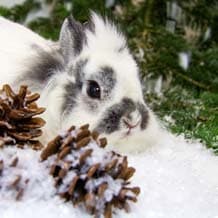 Tipps für den Winter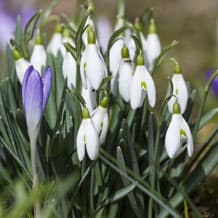 Spring is finally here!
Summer: Enjoyment
and dangers
Summer: Enjoyment and dangers
It's summertime and our pets can also finally stay outdoors all day long. But watch out! The summer doesn't only bring joy. Heat and dryness can be quite dangerous for rabbits and other small pets. Let us explain what you need to watch out for if as much of the summer as possible is to be spent outdoors.
Protection from direct sunlight:

Many animals visibly enjoy the sun. But one should always make sure that there is no lack of shady spots either. Please remember that the sun travels during the day! Places that are shaded in the morning may be sunny by midday already. The pen should therefore be best placed at a location where shade is guaranteed all day long.

Always make sure that enough fresh water is available:

It is particularly important to always make enough fresh water available. The higher the temperature, the more liquid will be required. The animals should not need to go thirsty under any circumstances. This would damage their bodies and lead to dehydration. The drinking water should therefore be refreshed regularly and several times a day in summer.

Protection from predators:

Outdoor pens or open-air enclosures are often used in summer for excursions into nature. But there is a need to ensure that predators, and this includes the neighbour's cat, will not be able to get into them. In addition, the pen should offer enough means of escape so that rabbits and other small pets can hide from impending danger and won't panic.

And what is finally important is to secure the pen against tunnelling out. Especially rabbits love to dig tunnels and burrows. To stop them from digging their way out, the enclosure should reach into the ground some way.

Diseases and vaccinations:

The most widely known infectious diseases for rabbits are RHD and myxomatosis. These diseases are caused by viruses that are spread by biting insects. The infection rate from animal to animal is also very high. Once a rabbit contracts RHD there will be no cure and it will die. The same is true for myxomatosis: only the symptoms can be treated. This makes it particularly important to have the animals vaccinated early on, optimally as early as February.

Parasites & other pests:

The chances of coming into contact with pathogens are much greater outdoors than in the apartment. Flies like the blowfly, for example, are particularly dangerous once the outdoor temperatures rise.

If an animal has slight diarrhoea, for example, and is therefore not as clean as usually around the anus, or if it has open wounds, flies can lay their eggs there. The maggots will hatch and move in under the skin. This can quickly lead to serious ailments. Visiting the vet will be unavoidable in this case! It is therefore absolutely essential to check the animals thoroughly every day.

In exceptional cases, rabbits and guinea pigs can also have problems with ticks. They should therefore be checked for this regularly.

If cats and dogs also spend time in the garden, it is recommended to have the droppings of your own pet checked for worms by a vet regularly, or administer worm powder as a preventive measure.

Poisonous plants:

Various plants and herbs can be poisonous for rabbits and rodents. Consumption of these plants can lead to various different kinds of damage to their bodies. The digestive tract can be affected, but also the liver, kidneys, blood vessels and nervous system. It is therefore recommended to check the area in and around the outdoor pen for these poisonous plants and possibly select another location if any of them are found. Amongst others, these poisonous plants also include sorrel, ragwort, foxglove and crowfoot. But garden plants such as Chinese wisteria, yew, boxwood and cherry laurel can also be poisonous.
Autumn has arrived!
The weather becomes duller and slowly but surely autumn has arrived. Some rabbits and guinea pigs stay outside in the fresh ailr, when it's wet. Others rather move inside. However, all alimals have to be prepared for the colder season. And we can help them.
Just a matter of habit!

Rabbits and guinea pigs, that normally stay inside the house and may move outside now, have to get used to living outdoors slowly in warm weather.

Only healthy and adult animals should be kept outdoors. Seniors (rabbits from the age of 6 and guinea pigs from the age of 5 years), as well as ill, weak, pregnant or young animals have a weaker immune system. They are better off inside.

If rabbits move from the garden into the house for the cold season, we suggest to do so early enough (best at the beginning of autumn). Otherwise they start to shed their summer coat and to grow a winter coat. Being inside the change of coat is not necessary, instead it would be even to warm for them.

Rex rabbits and long-haired breeds should not be kept outside due to their kind of coat.

The change of coat

The change of coat can be very strenuous for a rabbit. It has to groom itself a lot to get rid of the old coat. While doing so, fur might get swallowed. That can lead to hairballs and thus to digestive problems.

Also when the animals are kept indoors the coat will change. Their biological clock tells them when the time has come for it. A good grooming and the right nutrition are important in this time in particular.

Grooming

For grooming you will find a good choice of combs and brushes in specialist shops. It is important that these are soft and do not cause any injuries. When combing the animal, you lift it preferably with one grip around breast and pelvis and put it on your lap. Especially with long-haired breeds you should not neglect the grooming during the change of coat to avoid any tangles of hair. We even recommend to brush and comb these breeds daily.

Nutrition

We recommend the feeding of bunny proFIT balance in addition to the basic food to support the change of coat and to ease the change of weather (both for animals kept indoors and outdoors).

bunny proFIT balance contains brewer's yeast, which again contains biotin as well as vitamin B1, B2 and B6. Together with vitamin A and zinc the skin metabolism will be supported and the change of coat will be stimulated.

proFIT balance is available for all foli-/herbivorous (plant eating) small mammals and for granivorous (grain-eating) small mammals, too. We recommend also for all other small mammals to support them with proFIT, since not only rabbits change their coat.

High-quality hay, e.g. bunny FreshGrassHay has to be on the menu. It is very important for the digestion.

Protection against weather

In late summer and autumn the temperatures are quite chilly already. Rain, wind and sun alternate often. Therefore, open-air enclosures should be weatherised in time. A dry, insulated little house is important. Rabbits and guinea pigs must have the chance to seek shelter from rain and cold. Wet litter must be exchanged against clean and dry litter regularly. Bark mulch is suitable as litter for outdoor areas as it absorbs moisture and keeps warm.

Diseases

Preventive measures

A daily health check is important to prevent from diseases. Eating and drinking, weight, teeth and coat have to be checked regularly. It is recommended to keep and nurse ill animals back to health indoors - especially in case of severe infectious diseases. Your treating veterinarian helps to decide whether the ill animal should stay in the house during the cold season or wether it can move outside again after full recovery.

Respiratory disease

Rabbit snuffles is a common repiratory disease of rabbits. Animals that suffer from snuffles show clear symptoms in autumn time. Therefore, keeping animals outside has to be considered carefully. Rabbit snuffles can show symptoms like a runny nose or even a severe infection of the bronchia and lungs.
Tipps für den Winter
Kaninchen und Meerschweinchen im Winter.
Der Winter ist in vollem Gange und mittlerweile haben gerade Kaninchen, die auch bei frostigen Temperaturen draußen an der frischen Luft gehalten werden, ein dichtes Winterfell bekommen. Aber auch diejenigen, die in der Wohnung überwintern, sind von einer Klimaumstellung, zum Beispiel durch Heizungsluft, betroffen.
Wie ihr eure Lieblinge in der Winterzeit unterstützen könnt, erklären wir euch hier.
Indoor oder Outdoor? Eine Frage der Gewohnheit!

Sind es Kaninchen und Meerschweinchen nicht gewohnt draußen zu leben, dürfen sie auf keinen Fall erst im Winter in das Freigehege gesetzt werden. Es ist wichtig, sie an eine Outdoor-Haltung heranzuführen, wenn die Temperaturen beständig noch über 15 C° liegen. Nur so kann sich der Körper an die unterschiedlichen Wetterverhältnisse gewöhnen und das Immunsystem frühzeitig gestärkt werden. Kritisch ist zu sehen, ein Tier in der Außenhaltung zwischendurch immer mal wieder ins Haus zu holen, da der Temperaturhaushalt durcheinander gebracht wird. Manchmal ist ein Umzug ins Haus (zum Beispiel bei Krankheit) nicht zu vermeiden. In dieser Situation sollte man es erst im Frühjahr wieder nach draußen setzen, wenn die Temperaturen kontinuierlich wieder über 15 C° liegen.

Haltung

Ob Outdoor- oder Indoorhaltung, bei beiden Haltungsweisen gibt es bestimmte Dinge, die zu beachten sind. Kaninchen und Meerschweinchen sollten bei beiden Haltungsformen auf keinen Fall alleine gehalten werden und auch eine alleinige Stallhaltung im Freien ist nicht artgerecht.

Indoor: Raumklima, Fußbodenheizung und die Unterstützung der Atemwege

Die Indoor-Haltung sollte in unbeheizten Räumen stattfinden. Ist dies nicht möglich ist zu beachten, dass im Winter das Klima in geschlossenen Räumen oft trocken und warm ist. Heizungsluft trocknet die Schleimhäute aus und macht sie somit anfällig für Viren. Regelmäßiges Lüften der Räume ist daher sehr wichtig. Dabei sollten Zugluft und ein starkes Abfallen der Temperatur vermieden werden.

Viele Wohnungen besitzen mittlerweile in einigen Räumen Fußbodenheizungen. Was aber für unsere Füße angenehm warm ist, kann Kaninchen und Meerschweinchen schnell zu warm werden. Sie sitzen direkt am Boden und haben keine Möglichkeiten, der Wärme zu entfliehen. Daher immer darauf achten, dass sie sich da aufhalten, wo keine Fußbodenheizung ist.

Outdoor: Schutz vor Nässe und Frost

Selbst das dickste Winterfell schützt nicht ausreichend vor starker Kälte und Nässe. Es ist wichtig, das Gehege vor Zugluft, Schnee und Regen zu schützen. Bei Freigehegen ist es sinnvoll, die Seiten mit wetterfesten Folien zu versehen, welche Regen und Schnee abhalten. Eine gut isolierte Schutzhütte darf nicht fehlen und sollte Platz für mehrere Tiere bieten, damit diese sich gegenseitig wärmen können. Wärmelampen können zusätzlich für Wäre sorgen.

Weiterhin ist es wichtig, dass das Gehege einen doppelten Boden hat, damit es nicht direkt auf dem kalten Grund steht. Eine Luftzirkulation sollte gegeben sein, um Kälte und Nässe durch Bodenfrost und Feuchtigkeit zu vermeiden. Die Einstreu ist regelmäßig zu wechseln, nasse Einstreu ist täglich gegen trockene auszutauschen. Rindenmulch kann zusätzlich zur Isolierung und Aufnahme von Feuchtigkeit dienen. Insbesondere über Nacht oder an sehr stürmischen Tagen können die Öffnungen der Schutzhütte zusätzlich noch mit einem Tuch abgedeckt werden.

Frisches Trinkwasser

Trinkwasser kann den Tieren in einer Schale oder einer Flasche angeboten werden. Egal ob Indoor- oder Outdoor-Haltung, das Trinkwasser sollte täglich erneuert werden.

Outdoor

Unabhängig davon, ob das Trinkwasser in einer Schale oder einer Flasche angeboten wird, bei Minusgraden wird es früher oder später einfrieren. Daher ist mehrmals täglich das Trinkwasser zu kontrollieren.

Trinkflaschen können zum Beispiel mit haushaltsüblicher Alufolie eingewickelt werden, um sie etwas zu schützen. Dabei ist zu beachten, dass zwischen Flasche und Käfig-/Gehegedraht genügend Platz ist, damit die Tiere die Folie nicht annagen können. Auch ein kleines Holzbrett zwischen Flasche und Draht/ Gitter kann dies verhindern.

Im Fachhandel sind spezielle Schutzhüllen erhältlich, welche das Einfrieren des Wassers verzögern. Aber auch diese ersetzen keine regelmäßigen Kontrollen.

Indoor

Auch wenn am nächsten Morgen noch genügend Wasser für den ganzen Tag in der Trinkflasche/ Schale vorhanden ist empfehlen wir, das Wasser täglich zu wechseln. Abgestandenes Wasser wird nicht nur ungerne getrunken, es setzen sich auch Bakterien darin ab, die schädlich für die Tiere sind.

Ernährung

Bei der Ernährung ist es wichtig zu wissen, dass Kaninchen und Meerschweinchen in der Outdoor-Haltung ganz andere Bedürfnisse haben als diejenigen, die in der Wohnung leben. Neben dem richtigen Futter darf nicht vergessen werden, dass auch im Winter Heu die Hauptnahrung sein sollte. Heu ist besonders wichtig für den Magen-Darmtrakt.

Outdoor

Im Winter steigt der Energiebedarf, somit werden die Stoffwechselfunktionen und die Körpertemperatur aufrecht gehalten. Außerdem ist ein starkes Immunsystem besonders wichtig. Dies wissen wir nur zu gut und haben ein Alleinfutter für Zwergkaninchen entwickelt, welches genau auf die Bedürfnisse im Winter angepasst ist: bunnyNature KaninchenTraum WINTER OUTDOOR.

Ein Extra an Vitaminen und Proteinen dient der Stärkung des Immunsystems. Anissamen, Spitzwegerich und Kamillenblüten unterstützen zusätzlich die Atemwege. Leinsamen und Zink fördern die Bildung des dichten Winterfells und unterstützen die Hautfunktion.

Frisches Gemüse und Obst ist bei niedrigen Temperaturen nur in kleinen Mengen zu füttern, sodass es direkt gefressen wird. Kaltes oder selbst eingefrorenes Obst und Gemüse wirkt sich negativ auf den Magen-Darmtrakt der Tiere aus.

Indoor

Bei der Indoor-Haltung empfehlen wir, das gewohnte Futter weiter zu füttern. Wir bieten unterschiedliche Sorten an (bunnyNature Ernährung). Mit den bunnyNature Kaninchen- und MeerschweinchenTraum Produkten sind die Tiere das ganze Jahr über bestens versorgt.

Krankheiten in der Outdoor-Haltung

In der Außenhaltung wird ein intaktes Immunsystem benötigt, um den Witterungseinflüssen trotzen zu können. Auch vitale und gesunde Tiere können erkranken. Anfällig in der kalten Jahreszeit sind vor allem die Atem- und die Harnwege. Ein täglicher Check ist besonders wichtig.

Die Blase kann schnell bei einem längeren Aufenthalt auf kaltem Boden unterkühlen, was eine Blasenentzündung zur Folge haben kann.

Eine Erkrankung der Atemwege beginnt oftmals mit Ausfluss aus der Nase. Schon bei diesem ersten Symptom sollte ein Tierarzt zur Abklärung der Ursache und zur Behandlung aufgesucht werden.

Zu Verdauungsstörungen kann es in der Außenhaltung z.B. nach Aufnahme von zu kaltem Frischfutter kommen.

Beschäftigung in der Indoor- und Outdoor-Haltung

Im Winter gibt es häufig weniger zu entdecken und gerade in die Wohnung kann es schnell langweilig werden. Hier ein paar tolle Beschäftigungstipps für die dunkle Jahreszeit, die sicher nicht nur den Tieren Spaß machen.

Hier ist der Kopf gefragt!

Im Fachhandel gibt es für Hunde verschiedene Denk- oder auch Intelligenzspielzeuge. Dieses Spielzeug ist auch für kluge Meerschweinchen und Kaninchenköpfchen geeignet. Unter Hütchen oder Scheiben können Leckerchen oder frisches Obst und Gemüse versteckt werden. Bitte darauf achten, dass das Spielzeug aus naturbelassenem Holz gefertigt wurde, da gerade Kaninchen gerne nagen. Sogenannte Futterbälle können ebenso einfach mit dem Alleinfutter gefüllt werde, welches dann selbst erarbeitet werden muss.

Eine tolle Alternative zu den im Fachhandel erhältlichen Denkspielen ist die selbstgebastelte Variante. Hierzu eignen sich zum Beispiel Toilettenpapierrollen oder auch Eierschachteln. Diese können ebenso mit Leckerchen gefüllt werden. Stopft man an beiden Seiten etwas Heu in die Toilettenpapierrolle, muss der Kopf noch mehr angestrengt werden, um an das Futter zu kommen. Ebenso können aus Papprollen und -kartons Labyrinthe gebastelt werden. Am Ende wartet dann ein Leckerchen.

Die Buddelkiste

Vor allem Kaninchen buddeln gerne. Um ihnen diese Freude auch im Haus zu ermöglichen, können Buddelkisten ganz einfach selbst gebaut werden. Eine alte Kiste befüllt mit etwas Erde, Rindenmulch, Buchenholzspänen oder Sand kann schon ihren Zweck erfüllen.

Äste und Hölzer zum Knabbern und Nagen

Äste von Obstgehölzen oder zum Beispiel auch von Weide und Haselnuss eignen sich sehr gut zum Benagen. Zusätzlich kann an den Zweigen Obst und Gemüse befestigt werden. Die Tiere müssen sich strecken um an die Leckereien zu kommen, sind dadurch länger mit der Futteraufnahme beschäftigt und bekommen zudem noch etwas Bewegung.
Spring is finally here!
The cold, dark winter is over and spring is finally here. Our animals enjoy the first warm sunshine just as much as we do.
But what do rabbits, guinea pigs etc. get up to in spring? We have put together a few facts for you.
Rabbit

Rabbits love springtime. Finally they can move out of their winter quarters indoors and into the garden, or enjoy the sun for a few hours in their outdoor run. Their thick winter fur is no longer needed now, so the change of coat can start.

Before spending their days outside again, rabbits first need to get used to the fresh grass. Too much at once can cause digestive problems and stomach pain, so it is better to start feeding your rabbit small portions every day before they go outside.

Spring time is vaccination time. Myxomatosis and RHD are the most common diseases in rabbits and are usually fatal. Remember to get your rabbit its booster vaccinations regularly.

Guinea pig

Guinea pigs love the first spring sunshine too, and for many of them it means it is time to move into their summer quarters. Guinea pigs have sensitive stomachs and, especially when the grass is so fresh and delicious, sometimes eat too much. Get your animals used to the grass by repeatedly offering them small portions before letting them into the garden for the first time.

Hamster

For wild hamsters, spring is the start of the breeding season. Because they mark their territory more during this period, their side glands are slightly swollen and moist. This may also be the case in pet hamsters. This means that long-haired hamsters can sometimes look very matted when they crawl out of their house.

Dwarf hamster

In the wild, the fur of the Djungarian dwarf hamster becomes lighter in winter. In spring, it slowly turns darker again. The colour of our favourite scurrying friends' fur may also change when they are kept as pets, too.

Degu

Degus originally come from Chile. The mating season is in September and October, as these are the months of spring in Chile. The young are born around 3 months later. This is less important for pets.

Chinchilla

Chinchillas love spring too, as it is time for them to shed their thick coats! Chinchillas often struggle with a change of fur in spring.

Gerbil

In the wild, the Mongolian desert gerbil prefers to spend the cold winter in its burrow. In spring, they then like to use the warm days to search for food and enjoy the sunshine. Like in winter, they are inactive during the cold spring nights. Our pet gerbils also love the sunshine and enjoy sunbathing.

Gathering wild herbs

In spring, when the days become longer and the weather milder, nature begins to blossom once again. It is once again time to gather wild herbs. Not only do rabbits and guinea pigs enjoy the delicious dandelions and daisies ヨ gerbils, for example, also love the fresh greenery.

Many wild herbs are not only a delicious treat for our small mammals: they are also healthy and provide some variety in the diet.

But which wild herbs are safe for them to eat?

Firstly, it is important not to pick herbs from the side of the road, where they are often contaminated. Untreated fields or your own garden are the best places. Many wild herbs look very similar. If you are not sure, leave it be. Plants such as dandelion (rich in calcium, so only feed in moderation), daisies, pigweed and chickweed are all safe for our pets to enjoy.

Garden herbs are also very popular with pets such as gerbils. They really enjoy fresh parsley and basil.

The important thing is to only feed fresh herbs and grass in moderation, in order to prevent digestive problems.
Our expert advice!
Ask the expert
Thank you for the question!
We'll contact you!
OK
Failed to submit your question.
Please try again later!
OK